Meeting Mr. Kelm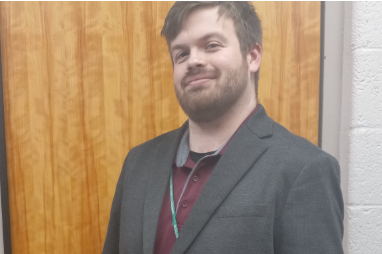 This year, Edsel Ford gained a new music teacher: Mr. Kelm. Mr. Kelm teaches choir, theater, and piano. He is also the director of the school play and musical this year.
In an interview, Mr. Kelm said he wanted to become a music teacher because he was inspired by his high school choir class. At first, he thought he wasn't going to like it, but he ended up really enjoying the experience. At the end of the year, a final exam would determine if he would move up to the next level of choir or stay where he was. He passed and ended up sticking with choir for the rest of his career. 
His choir director ended up becoming his second mom, as she really helped guide his path when he didn't know what he wanted to do with his life. She shaped a lot of his philosophies on how to mentor young adults, and he was always observing the way she would interact with her own students. Mr. Kelm's choir teacher had 300 choir students in the course of any given year, and she knew every single name. He watched her guide kids who had been totally lost or didn't have a path in life and give them courage to go forward with what they wanted to do in life. It is these experiences that led Mr. Kelm to say to himself, "This is what I want to do." So, he became a music teacher because he wanted to help people in the same way that his choir director helped others.
 When asked what one piece of advice he would give to his students, he said, "Never stop trying, even when something is really difficult. To stop trying is to admit defeat, but you can never be judged or looked down on for trying your best and never being afraid to ask for help. So ask for help and you might be surprised with what someone might say.'' 
He plays piano, electric guitar, and electric bass. He plays the guitar better than he does the bass. He can also somewhat play the pipe organ, which is like a piano but much bigger and louder. He was even really good at the kazoo when he was in college.
 Some of the music he listened to growing up was Metallica, AC/DC, KISS, and Iron Maiden. Some classical musicians he likes are Johann Sebastian Bach and Mozart. Some of the musicals he enjoys are Les Misérables, Saigon, Love of Murder, and Sweeney Todd. He also is a fan of operatic musicals like Marriage of Figaro and Gianni Schicchi . This may surprise people, but he is a very massive nerd of Dungeons and Dragons. He loves to cook as well. His favorite vocal warmup is the "Sarasponda" because it  has every part of the range. He especially loves "Sarasponda" because when people don't know it, their faces go "oh" due to the fact that the song requires physical movement. 
 Before he became a choir teacher, he was double majoring in music performance and political science. He wanted to go to law school, but he changed plans because he couldn't make it work with his 8:00 AM music theory class. He has been a teacher in the public school setting for less than a year, but has been a private teacher for voice and piano for five years. If he could describe his classes in one word, he would describe them as "ambitious" because his students have shown potential to grow and accomplish some really awesome goals with the new strengths they gain.