Edsel Ford Girls Soccer Starts Season Strong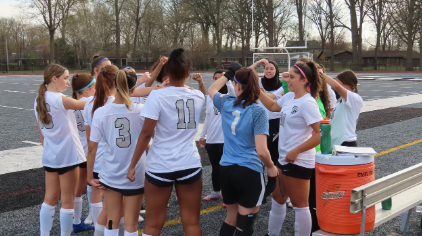 Meet the Edsel Ford Girls Varsity Soccer Team! The varsity team consists of very talented players grade 9 through 12. The team is very dedicated and happy to be representing our school. The girls put in hard work every practice to keep getting better and better; they improve every day. The community of the team is very heartwarming; the friendships between the girls is really amazing to see on and off the field. Celebrating wins and overcoming challenges is so much easier with the bond they have. The environment is very welcoming and encouraging which is a wonderful thing to have in an athletic team. Currently coaching the team is Hussein Beydoun who is also a government and U.S. history teacher here at Edsel Ford. This is his first season coaching the varsity girls soccer team, but in past years he has coached girls junior varsity and the boys varsity team. The current record for this team is 5-2, that's a great record so far! Some big wins so far have been Southgate (8-0), Crestwood (2-1), and Wyandotte (7-1). 
Come support your fellow classmates at their games this season! You can find the schedule for both junior varsity and varsity on the website https://edselfordhighschool.bigteams.com
Go Thunderbirds!