Meeting Mr. Havens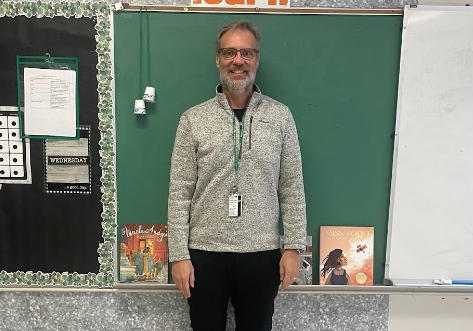 As you might have noticed, there is a new teacher in F-Hall this school year. Mr. Havens is currently teaching multiple courses, including Introduction to Business, Multimedia, and Language Arts.
But Mr. Havens didn't begin his career in teaching. Mr. Havens spent 30 years in health care administration and law.  He started teaching when he was 50 years old. This is his fifth year teaching; he previously taught in Detroit before coming to Edsel Ford. 
When asked about the most important day of his life, he mentioned two days: the day he got married (30 years ago) and when he became a father. Mr. Havens also has two granddaughters. His current favorite TV show is Chicago PD, but his all time favorite is Cheers.  
He loves anything around water: swimming, diving, fishing, waterskiing, and boating. He teaches swimming during the summer.  
When asked about giving advice to current students, he thoughtfully responded, "I thought life's happiness began with money. I learned when I was very successful in health care consulting…I was never happy because I didn't enjoy what I was doing. I don't make anywhere near that money as a teacher, but I love teaching. Money does not make you happy."
Mr. Havens said the most interesting thing about him is that he has two stomachs, which he found out about at age 42.  Stop by and welcome Mr. Havens to the Thunderbird family!