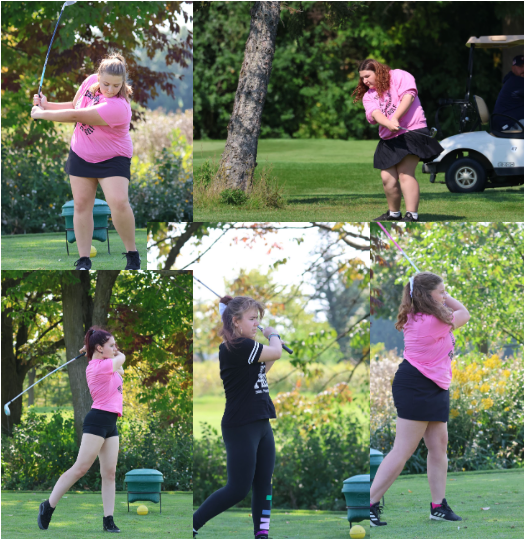 As the leaves begin to fall, the EFHS Girls Golf season has wrapped up their season. They placed 7th in the Downriver League which included matches at Allen Park, Trenton, Woodhaven, and Southgate (where I scored 35 points!). Our last day of the season was October 5th at Fellow's Creek . 
The 2023 Edsel Ford Girls Golf team includes Joslynn Jarrait, Natalie Manszewski, Lily Courtesies, Maddy Hawkins, and Cat Garcia-Ovalle (myself). The main coaches are Emily Smith and Daniel Pletzke. The assistant coaches are Melanie Duff and Danielle Smith. The golf team has grown since last year where they only had 4 golfers.   
Story continues below advertisement
 I interviewed the golf coach Mr. Pletzke about the successful golf season.  
C: Out of all the sports you could have picked, why did you want to coach golf specifically?
Mr. Pletzke: "I have played golf for over 30 years and it's something I've always loved and enjoyed and it's something you can always improve on but never perfect it."
C: How did you first get interested in golf?
P: "My dad started playing and I did at the same time. We learned to play together at the same time."
C:How many years have you been coaching golf here at Edsel Ford?
P: "I have been coaching boys golf for 13 years at Edsel and girls golf for 11 years at Edsel."
C: For people interested in joining golf what would you tell them? 
P: "Get beginner lessons and get fit for clubs that fit you."
C: If you could describe the Edsel Ford girl's golf team in one word what would it be and why? 
P: "Either friendly or fun." 
—————————————————————————————————————————
I also interviewed one of the golfers on the team, Joslynn Jarrait.
C :Out of all the sports at Edsel what made you want to join golf specifically?
J: "I wanted to join golf specifically because it only runs from August to October and It's very flexible for a busy schedule. Also I've never done a sport in my life and it was easy at least for me to learn."
C: How have you enjoyed being a part of the Edsel Ford girls golf team this year?
J : "I enjoyed it a lot. I think it's relaxing and you can get your anger out on hitting the ball. Also, I got a free hoodie that's so comfy and I made new friends and met new people from other schools."
C: Do you think you would like to continue golf later in your life?
J: "Yes, I never would have thought golf was fun but now that I've tried it I would probably go and golf for fun with my friends."
C: What's one thing you think you could improve on since being on the girls golf team here at Edsel Ford? 
J: "Not struggling to hit the ball the first time and to hit it farther."
C: If you could describe golf in one word what would it be and why?
J:  "Confidence because the more you do it the better you get. I think it teaches you self discipline for your negative thoughts and to do things right the first time. There are no shortcuts for being lazy."
C: For people interested in joining the golf team at Edsel Ford what would you tell them?
J: "You should join Girls Golf because everyone is supportive and cheering you on. Also it's a short season and you might find a new interest so go for it."
Author's Opinion: 
Personally, I love watching our team play and seeing their growth and progression in practices, as well as matches. Some members of the team have never played golf  besides mini-golf! Getting to see the new members' improvement every practice is my favorite aspect of being on the team.  
I have loved golf ever since I joined the team. Before I joined the team, I had a friend who was on the golf team at Edsel Ford. She encouraged me to try golf to see if I would like it. Golf now is one of my all time favorite sports. I'm so happy I joined and I'm grateful to have such amazing teammates. I have made some wonderful friendships with all the girls on the team the last two years. Golf is a sport that I never expected to like or even get into, but I will continue to play in the future.
I'm forever grateful to have been on just an awesome team. So come join the team and have tons of fun. Go Thunderbirds!