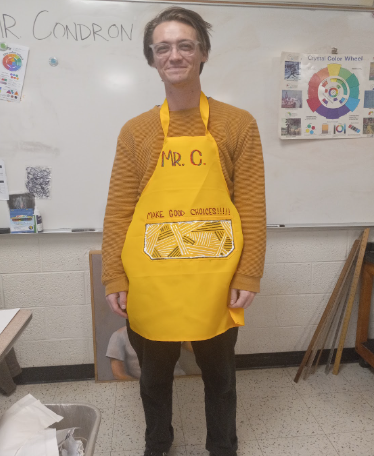 This year, Edsel Ford gained a new art teacher named Mr. Condron, the new co-teacher in F -Hall. This is his second year teaching at Edsel Ford High School; he also did some of his student teaching here last year.
Before becoming a teacher, he wanted to be a professional artist. He tried that for a little bit but then realized that he loves teaching too much not to do it. Now, he specifically wants to become an elementary school art teacher.
When asked his favorite artist, Mr. Condron replied, "Franz Kline because he is an artist from the early 1900s and one of the first people to do abstract painting. He only uses black and white paint, which is something I do in my own artwork, and I really like his artwork."
Mr. Condron would describes his classes as "creative" because he teaches Photography, Drawing, and Intro to 2D Design, which provides multiple opportunities for students to express themselves creatively.  "They get to make art projects and have fun. I would tell them (students) that there are so many different options for art you can take. You can follow your interest in drawing, painting, photography, sculpture, ceramics, and intro to 2D design. There are a million different options for you as a student."
Story continues below advertisement
If he won the lottery and decided to give up teaching, he said, "I would not work. I would just stay at home with my dog and buy a mansion. I would not work at all if I won the lottery." According to Mr. Condron,  people are always surprised to find out that he likes to ride a skateboard.
So, if you ever see him in the hallway, don't be shy and say hello! Welcome Mr. Condron to the Thunderbird family!