Sweeney Todd School Production: A Big Success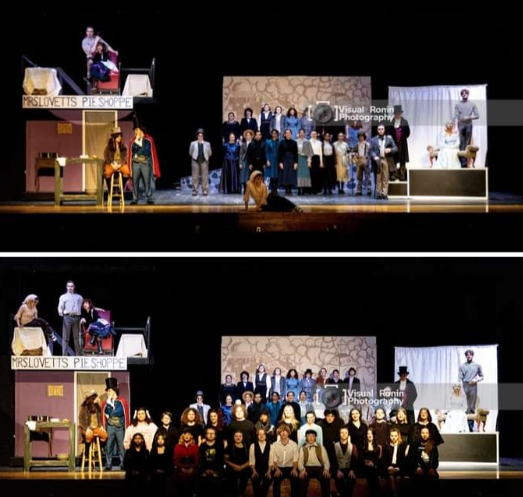 The Edsel Ford theater department just recently did a production of the musical, Sweeney Todd: The Demon Barber of Fleet Street. The main character, Sweeney Todd, is a barber who makes people believe they're getting a haircut but then ends up cutting the throats of his clients and sells them to the baker, which then she bakes into meat pies. The Edsel Ford production was highly professional with talented actors, I really loved being a part of this production. I got a chance to make new friends and memories that I will never forget. When I look back I cherish everything because it was just an amazing experience being in my first Edsel Ford musical. I had so much fun performing on stage with my fellow actors. If anyone ever gets the chance to be in theater or even on tech crew you will love it, I guarantee it. It's a wonderful experience where you can make a lot of new friends.
I interviewed the director of the production, Mr. Kelm:
C: How do you think the show went? 
Kelm: "I think the show was a very successful event. It was well attended by both the people in the community and students and facility here at Edsel Ford. The performers seemed to really connect with the music and the narrative. By the end of the performance, they had seen how powerful it was. It was carefully acted and carefully performed event can be and I think that really resonated with everyone.''
C: Were there any surprises? 
Kelm: I would say that there were more than a few surprises…Some of them are very very positive surprises like getting to see some of the quieter students really come out of their shell and make the show their own a bit. Also, a few surprise-surprise like the set piece not turning all the way on opening night and a few 'ha ha' moments with microphones and effects. Nothing that would be very detrimental to the production and cost, but to showcase the magic of making live theater.''
C: Who are you the most proud of?
Kelm: "I am singularly most proud of each and every student who went out of their way and took 4 months of their lives in order to put on a very difficult show."
C: For people interested in joining drama, what would you tell them?
Kelm: "Come out and work with us. We are based out of the Performing Arts Drama Club that meets every Wednesday at 3pm during the school year. We get to participate in a whole lot of different things including Haunted Theater, fall play, another "Night of Scenes," and the spring musical. There are also drama classes that are offered and I hope to expand my drama classes. The best way you can be involved is coming to a show at Edsel if you're not 100 percent sure that drama is for you the only way to find out is to give it a try.'' 
For this article, I interviewed the co-director Scout Greimel about the show. 
C: What was your favorite part of the show? 
Scout:  "My favorite part of the show was coming into rehearsals with a vision of what I wanted a scene to look like, or how I wanted students to act, and constantly being surprised by both their willingness to bring these ideas to life and how they surpassed her expectations in every way bringing their own ideas in too. "
C: What made you want to co-direct the Sweeney Todd production? 
Scout: "I wanted to direct the show because theater has always been a big part of my life and has taught me a lot about myself and my strengths. I want to be able to provide students with that same experience and help to find their own strengths." 
C: For anyone interested in joining the theater productions, what advice would you give them? 
Scout: "Just go out and get involved in any way you can. Even if you are scared about being on stage, you should audition. You never know, you may fall in love with performing and if you don't there's always room with the tech crew. Theatre is a space for anyone and everyone to find and be themselves. "
C: What do you think the hardest scene to learn in the show was? 
Scout: "That's hard to answer because many of the scenes were difficult in different ways. For example, Pireilli's Elixir and God that's Good were difficult when it came to blocking and timing. Other scenes like Johanna Quartet were hard for the vocalists. Scenes where characters were killed were difficult not only when it came to figuring out how to show the action onstage but also for the actors to come to a point where they could really portray the proper emotion." 
C: What was your favorite character/characters and why? 
Scout: "When I was in high school, I really wanted to be Ms. Lovett because I found her character very interesting. She is intelligent and conniving but you can also see how she struggles and has her own goals. After being involved in the production I think Johnanna is my favorite character. I love to watch her character grow from a young woman who has no agency to taking control of her own destiny and following her own desires. I think her character arc has a lot that many young people can resonate with and be inspired by." 
I also interviewed senior Dominic Greimel who played the lead role of Sweeney Todd. 
C: How do you think the show went, overall?
Dominic: "I think the show went really well. The first day was a bit messy at first but over time we just started getting into a groove and it was great at the end. I think the last night was our best performance and I am glad that everybody saw it and the people who saw the first night got to see what we can really do."
C: How did you like performing as Sweeney Todd? 
Dominic: "I've loved Sweeney Todd from when I was little. My parents showed me and it was the very first musical I had ever seen. It's so creepy and scary and I love that show. I thought how he sang all the songs was phenomenal so I've always wanted to be Sweeney Todd."
C: What was  your  favorite part of the production?
Dominic: "My favorite part was working with all the people I didn't work with last year, like Dylan Charles who played Anthony. Last year, he was on tech crew when I was performing and I was on tech crew when Dylan was performing last year. The last show, Death by Dessert, I was able to work with him and this year he was Anthony to my Sweeny Todd. Selah Brace who played Ms.Lovett was really great and it was nice working with her.  It was really great working with everyone. "
C : What would you tell people interested and curious about joining drama?  
Dominic: "Just go for it. There's always a place for everybody their and if you want to be on the stage you'll get as much help as you can so your ready to do the best performance you ever can.''